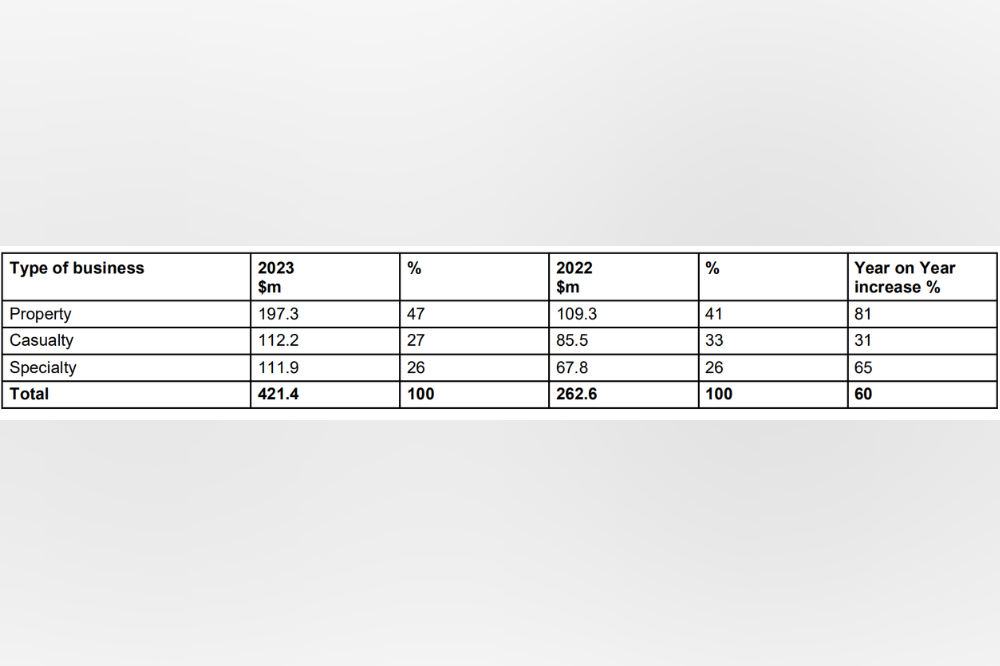 Conduit Re's property business made up the bulk (47%) of 2023 estimated ultimate premiums, followed by its casualty (27%) and specialty (26%) lines of business.
Conduit Holdings reported that "extremely strong" market conditions in the property and specialty lines of business had provided it with the opportunity to grow both these classes, while continued selective growth in the casualty lines also gave the company a share of "attractive" underwriting opportunities.
"Sixty percent premium growth is the true indication of the underwriting conditions we have experienced," Carvey said. "This is manifesting itself across pricing and rates, terms, and deductibles, and the strong increase in new business that we have enjoyed. From a capital perspective, we have plenty of room to execute our plan and the growth we anticipate."
Business trended towards a mid-80s combined ratio in the medium term, Conduit Holdings reported, supported by significant improvements in Conduit Re's terms and conditions, reduced acquisition costs on renewed business, and an "exceptional" pricing environment.
Conduit Re also maintained a legacy-free balance sheet, placing it in a position ready for continued growth under the current market conditions.
"We experienced a busy and rewarding start to the year," said Conduit Holdings chief underwriting officer Gregory Roberts. "In the January 1 renewals, we increased our weighting towards property and specialty business, capitalising on an exceptional shift in pricing, while balancing it against our casualty book, which is still attractively priced. A highlight was that we successfully secured our retrocession program in line with our objectives. As a team, we are absolutely delighted in the way that we executed the renewals period."
Executive chairman Neil Eckert added: "This has been an exciting January renewals…. We are continuing to see reserve strengthening across the reinsurance industry, which gives Conduit Re with its legacy-free balance sheet, [a] competitive edge. Conduit Re is now truly through its start-up phase."
For 2023, Conduit Holdings believed significant movement in pricing and terms and conditions evidenced a structural shift in the market caused by a "fundamental repricing" of risk, as well as an imbalance in the supply and demand of capital. This new industry landscape would endure for the rest of 2023 and beyond, creating an opportunity for improved margins.
Conduit Re is set to announce 2022 yearend financial results on February 22.
#Conduit #Holdings #reports #growth #estimated #ultimate #premiums