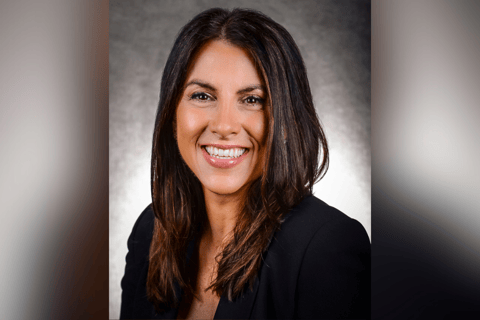 Jennifer Santiago (pictured above) took office as president of international risk management society RIMS at the start of this year. Santiago holds RIMS-CRMP, ARM and MBA designations, and is the director of risk management and safety at Wakefern Food Corp., the largest retailer-owned cooperative in the US. She has been a member of RIMS for 15 years and has been part of its board of directors since 2014.
Corporate Risk and Insurance spoke with Santiago about her career in risk management, as well as what she is looking forward to as president of RIMS during a pivotal time for the industry.
Corporate Risk and Insurance: Please tell us about your career in risk management. How did you get into this field?
Jennifer Santiago: It was definitely fortuitous. I got an internship in the medical field as a medical liability representative in medical malpractice – which is a fascinating area. That led to my role at NYU Medical Center in risk management and insurance. It was an entry-level job, but I was promoted to director after a couple of years. The director role was expansive, and it required me to manage a team, report to the CFO and work with my first captive insurance company. There, I got tremendous exposure and experience in healthcare risk management and the seed was planted for an exciting career.
CRI: What made you stay in risk management?
JS: I continued to expand my knowledge and grow professionally through opportunities in several different organizations of different sizes and financial structures spanning healthcare, pharmaceutical, higher education, manufacturing and services. These include well-known organizations such as Novartis Pharmaceutical, Ingersoll Rand and Penn State University and, most recently, at an US$18 billion cooperative called Wakefern Food Corp. The diversity of operations and business model has kept things interesting for me. Here, I'm able to apply my risk management leadership, skills and experience to help organizations and teams assess risk and uncertainty, plan, prepare and develop organizational resilience based on smart decision making.
I find no day is the same; I am always learning, growing and pushing the boundaries and barriers, and it has made for a very rewarding career.
CRI: Tell us about some major challenges and learning opportunities you've encountered during your career?
JS: I think, as you move along and up in your career, there can be many challenges that may rattle and derail your path and test your personal fortitude and resilience. I have chosen to take some fairly big risks with my career and drive that change when I found the path becoming too narrow or things not in line with my values. RIMS and the RIMS community have always been my guiding light.
I've found that all my challenges and opportunities have given me a chance to get to know myself better, which is key for a leader. It has allowed me to develop into a better, more effective leader for my teams and organizations. It is fair to say I have not met a challenge or opportunity that I didn't like and, as I mentor young professionals and I learn from them, I hope to instil some of that personal fortitude and resilience to help them respond and thrive in these challenging, uncertain times.
CRI: What does becoming president of RIMS mean to you? What are you looking forward to tackling during your term?
JS: We are entering this all-new post-pandemic world, and it's proving to be one of the most pivotal times for risk management in recent history.
Risk professionals need to dust off their strategic plans, re-examine key priorities and reassess processes and our organizations need to do the same to transform strategies and evolve processes that, ultimately, strengthen organizational resiliency.
The road to building a resilient organization is not an easy one to find or follow. That's where I strongly believe RIMS can step in to help. As president, I want to ensure that RIMS continues to empower the risk community to be catalysts for change, that it focuses its energy on providing risk leaders with the tools and support to innovate within their organizations and strengthen their programs. Most importantly, RIMS must continue to be a platform for the exchange of ideas and powerful conversations that connect and inspire risk professionals from all industries, career levels, professional experiences and backgrounds.
It is a great honor and privilege to serve RIMS and the risk management profession in this capacity. It is an incredible opportunity to continue to help elevate the profession and bring it to new heights.
CRI: What is your forecast for the risk management profession in the near future?
JS: Risk management is fundamental to creating resilient organizations and the "Road to Resiliency" starts with the risk professional. Leaders around the world have recognized the importance of strong risk management capabilities in their organizations – the pandemic clearly highlighted this. As such, they need trained, skilled risk management professionals to not only help them respond in a crisis, but to build in the capabilities, plans and resources to ensure organizational resilience.
The global pandemic has pushed boardroom doors open for risk management professionals. Leadership sought risk management's support, especially when it came to emergency and crisis management, business continuity, risk financing and adapting operational strategies. It's up to us and our organizations to keep this door open and move more risk management professionals into C-suite roles and in seats on for-profit, not-for-profit and private company boards.
Needless to say, my prediction is strong for the growth of the risk management profession into the future.
#RIMS #president #shares #stay #risk #management